A lot of big things have been happening in Local Search over the past couple weeks and it would be a shame for me to let everyone else cover them without throwing in my own two bits. So, I am going to talk about 3 things that are going have a major impact on the local search industry for good, for bad, or maybe just for fun.
Lucky 7's
Back in the good ol' days, when Mike Blumenthal had to walk 10 miles, up hill, both ways to claim a local business listing on Google, he would be hoping his listing would show up in a 10-pack like the one pictured below…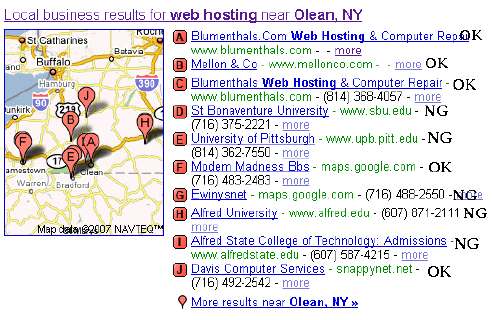 As you can see, there are 10 listings, with Blumenthals.com on the top. A few days ago, reports of the 10-pack started to change into reports of the "lucky 7" (so named by David Mihm)
The  most obvious thing here is the very clean look of 7 listings instead of 10. The slightly less obvious is that Mike Blumenthal is number one for a slightly different keyword search. But, the 7 pack is here to stay, and the 10-pack is no where to be found. The new lucky 7 design features…
Top line Business name (no more website next to it)
Website is now always on the 2nd line
Phone number next to website
Review count or "more" at the end of 2nd line
Slightly larger fonts
That is how the 7 are formatted, and I have not found an exception yet. The new layout is very sleek, easy to read, and should increase the amount of traffic that the lucky 7 listings get.
I have heard a few theories as to why Google went down to 7 listings, the most notable (IMHO) was pointed out by Brent Nau on Mike Blumenthal's Blog who stated…Do you think this is to make room for the Local Ads. Do you think we will see these Local Ads at the top of the Local Box results?
Well, he was right in some cases, and maybe a bit off in others. Yes, the local ads (which is covered in my next section) is showing up above the lucky 7. But, m2 (Matt Mcgee?) brought up a great point on David Mihm's blog Mihmorandum. He said… From the screenshots I've seen, the 7-pack takes up the same amount of real estate as the 10-pack. The fonts are larger on the 7-pack.
So, Google might not be making more space on the SERPS available, but just cleaning up the look so that local listing ads don't clutter the options up to 14 local businesses. I like the change, I never got through 10 business listings before choosing a company anyways. I also love that the reviews now stand out much more. One of my listings that was in 3rd, but had more reviews than the 1st and 2nd listings, has seen a dramatic Click Through Rate increase since the lucky 7 have appeared.
Local Ad Listings
The Best way to describe local ad listings is a G-rated version of Google Adwords. They cut out all the gory stuff, made the story line simple, and discounted the ticket price. Here is the trailer…
So, here are the basics of local ads
Flat Pricing for unlimited clicks
Appear above Local Listings
You Can Track How many Calls The Ad Brings
You can point them to your website, or your Google Places page.
Currently Available in S.F. and San Diego
Information Is Tracked Through Local Business Center
Well, that is good vague information. Mike Blumenthal and David Mihm put a list of questions together such as "pricing" and "how many categories can you advertise on?" and Google did their best to answer the information that they could. Pretty much, everything is in beta, they don't have to many answers, and there is no date set on when this will roll out to the rest of the United States.
My take on the ads is that they are very risky on Google's part. Adwords is the bread and butter of Google, and local listing ads are in direct competition. The question is…can they make Local Business Listings more profitable than Adwords? Many keen businesses have been using adwords for years to get local clients. Will they shut down those accounts for a cheaper, easier version? Or, will small businesses learn about this feature, and eat it up like the introduction of the first yellow book?
Adding this feature will also put Google in the more direct form of competition with IYP's. I have heard that you should never bite the hand that feeds you, and I would love to see the amount of dollars that IYP's are spending on adwords. Where does this put their relationship? Will you see a IYP's move into a new unknown model to try and compete, or simply start to disappear?
Overall, there is a whole lot more involved than a businesses paying to get a few more clicks, and I am going to be very interested to see the development.
Lucrative Support
This is the best news in my mind. Yet again, the famous Mike Blumenthal got the first scoop, and stated on his amazing local seo blog …. According to Frederick, email support will definitely be an integral part of the Local Listing Ad product. Support will take the form of an automated first response to the initial query with human escalation if the answer provided is not satisfactory. He noted that discussions were on-going and that all other support options, including the possibility of fee based phone support, were on the table but no final decision had been reached. He noted that he felt strongly that "people should be able to get their questions answered".
I would pay for the ads simply to get this support, and here is simply one reason why.
I have been doing work for a company that suddenly disappeared from local search results. I am not talking about falling out of the rankings, I mean it completely disappeared….other than in the Local Business Center. The listing still says active. Now, countless hours of sweat and tears went into building a large amount of reviews of this company. They were all legitimate reviews. Now they are all gone and I can't get a person at Google to respond on the maps help forum. So, would I pay? Yes. That is why it is lucrative support.
Conspiracy Theory
I have decided that the reason Google has been so bad on maps support is that when the day comes for local listing ads, 1000's of businesses would pay willingly just to get a few answers from google about their listing. Genius, a model that makes money from bad customer support….only in the Google universe.