An increase
of 267%
in call volume
The Challenges
Opening a new office across the country without a presence in that market.
Completely new market across the country where no one knew his name.
Rent at a new office and expenses stacking up with no additional income from Los Angeles clients.
Competitors with years in the market and authoritative sites.
Needing to grow his L.A. practice without hurting his Boston office in the process.
The need for increased volume of leads and hiring new staff.
With no connection to the area, Joshua Goldstein moved to Boston to attend law school in 1994 and never left. Over time, he built a successful firm with a stellar reputation. He had it all. But after a brutal winter in 2015, Josh decided enough was enough and that it was time to relocate to Los Angeles where he had been considering moving to for years.

I chose Nifty for my law firms marketing and have had a great experience. They are true experts and do super high quality work.

Josh Goldstein
Los Angeles, a sanctuary city for undocumented immigrants, presented Josh with higher demand for immigration legal services and a better quality of life for him and his family. How would he make the transition from Boston – where he dominated in search results for immigration law – to Los Angeles – one of the nation's most competitive and expensive markets?
With everything on the line, Josh needed to know what SEO strategy was the least risky and which one would bring him leads the quickest. Some big questions loomed, but one thing was obvious. Re-orienting the Boston site to target Los Angeles would sacrifice everything he had built in Boston.
His New England competitors would have loved that. So it boiled down to two decisions:
1. Create a subdomain for L.A. (losangeles.jgoldlaw.com) leveraging the existing site's trust and authority which could pull rank quicker, but we could experience some fall out in Boston as we turn more attention to a high density market 3,000 miles away. Josh couldn't afford to lose steam in Boston.
2. A new domain would give us a clean slate to build on, and keep the Boston site cranking, but it would likely take longer to drive results. Josh was already in Los Angeles and time was ticking.

Solution
A well thought out targeted approach.
Detailed competitive research to understand the L.A. immigration attorney landscape.
Purchase of a keyword rich domain and complete separation from the Boston site for local relevance.
Strategic positioning of the offices location.
Aggressive review gathering strategy.
Solid foundation with a brand new site (on-site optimization, content creation, high quality link building).
Competitor Research
Only homepages ranked on page 1 in Los Angeles, which we also saw in many other high density markets we analyzed at the time. Additionally, top-ranked websites were dedicated to immigration law only in Los Angeles.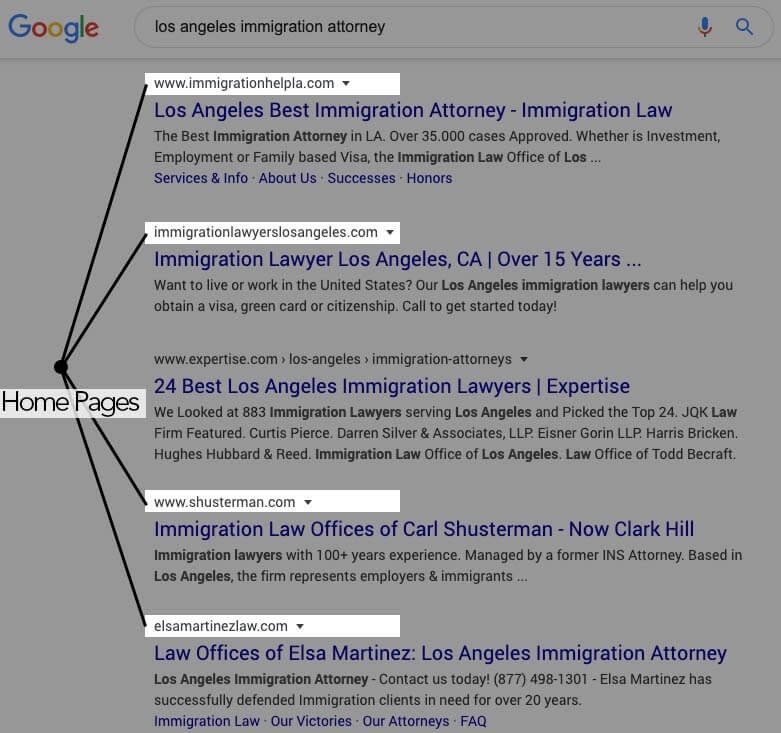 They were local firms who had been around for years – ones we could eventually beat. However, to contend, it was clear we needed a new, dedicated, site with better content and better links than the top competitors had – which was a lot.

Control
In Search, there's a lot beyond our ability to control. Google calls the shots. No one can guarantee #1 for a given keyword, or any ranking for any keyword for that matter. There are also instances where certain damage has been done to a domain, and it can be extremely difficult to rectify those issues.
In our client's case, if we were to use a subdomain to compete in L.A., we'd still have a daunting number of links that are contextually relevant to Boston that could hinder our long term growth in Los Angeles. It's getting harder and harder to boil the ocean in search today. Geo boundaries are becoming more and more defined. Searcher intent and location are becoming more utilized ranking factors.
To compete in L.A., we needed a highly targeted and dedicated approach, so starting with a clean slate where we controlled all aspects of SEO from day one was what we decided to do.

Nifty is trustworthy, responsive, and professional. If you're serious about SEO, look no further.

Josh Goldstein
Taking Action
Taking what we learned from the competitive research, Nifty acquired a domain that both we and the client felt good about: www.immigrationlawyerslosangeles.com. It had no links pointing to it. No baggage. Just 6 years of maturation behind it. Google's John Mueller had confirmed just prior to this time that keyword rich domains were completely ignored for ranking purposes. We saw then what we continue to see now – keyword rich domains are everywhere.
Since there's often discrepancies between what Google says and what Google does we decided that a tasteful keyword rich domain couldn't hurt. We built it out, launched, and immediately got to work.
We started building out the necessary content to provide potential clients with the answers they were searching for. We had historical knowledge of what people were searching for when it came to immigration attorneys because of Josh's Boston office, so we got to work creating new content targeting L.A. This went beyond just a simple "L.A. Immigration Attorney" practice area page. We made sure to make Josh's site a massive resource for anyone looking for immigration services.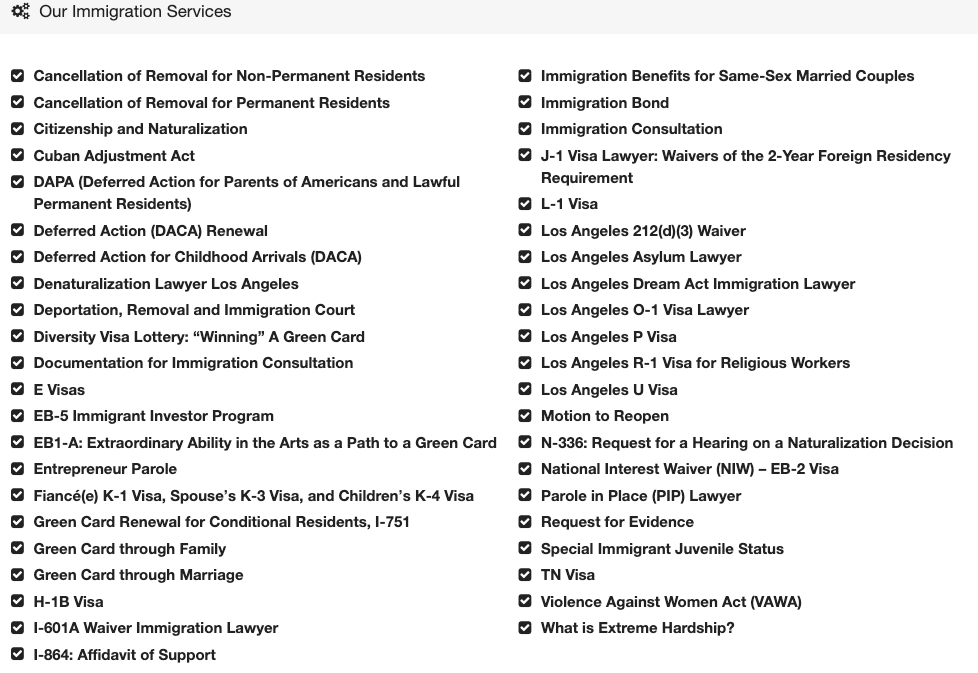 Next we knew we needed to help Josh build his name and reputation in L.A. To do this we helped coordinate a process to get real reviews from happy clients consistently. We were able to build up a library of testimonials very quickly so that Josh's trustworthiness was immediately visible.

Now, the site needed authority so Nifty built out an entire link building campaign to help generate backlinks to the site. A major piece of this was the Immmigration Lawyer Scholarship program. By creating this scholarship offering we were able to get links from Universities which have high authoritative .edu links and helped the new site to start competing with the same firms that had been in L.A. for years.

Another key piece to the strategy was an office locations strategy. We saw the competing firms ranking in L.A. were close to the centroid, so we mimicked this. The client acquired an office space near the Los Angeles centroid which helped him gain visibility in the local pack relatively quickly.

Organic rankings took more time, but when Nifty achieved top 5 organic rankings for his head terms (i.e. Los Angeles immigration attorney) a year into the campaign, traffic and leads went gangbusters.

Results
1,560%
increase in local organic traffic
450%
increase in form completions
267%
increase in phone calls
717%
increase in total leads
Comparing January 2018 to the previous year, Josh's results were outstanding. His local organic (meaning relevant traffic) jumped by over 1,560%, and he continues to be a strong force in the L.A. immigration lawyer market.
Not only did his website traffic increase, but his total leads skyrocketed by over 700% (both form fills and phone calls contributing to this increase with calls more than tripling).

Josh was able to achieve his goals of moving to L.A. with his family and has a successful immigration law firm there. He also continues to have a successful firm in Boston. By putting our heads together, Nifty and Josh built out a solid strategy and executed on it to make all this happen.
Nifty has now been working with Josh for over 5 years.

I just did my usual search, FWIW: "Los Angeles immigration lawyer" on the startpage. The site ranked #2! Only Yelp was above it. Unbelievable, as in, I don't believe it. Crazy

Josh Goldstein
Let's Do This
Fill out the form below to get started.